NATURA
Water tank innovation technology for the sanitation DOS Silver Nano Titanium have the property halts ,destroy the bacteria and microorganism ,be advantage over with checking standard from all institute from various nations with the format that emphasize divisibility harmonious with the nature.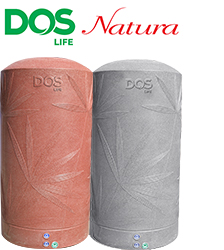 Product Descriptions
1. Model Natura
2. Size (liter) 700 1000 1500 2000
3. Color: Granite Red/Granite Gray
4. Material: Polymer Elixir Special Grade
5. 20 year Warranty *according to company's condition*
Brochure Download
Set up Description
Feature

Health Safe
Certificated by America FDA

Anti-Bacteria Protection
Pass checking from the foreign institute about highest efficiency for destroys bacteria and microorganism efficiently.

Protect water flood
Do not collect dust and insect with tank bottom design attach the ground.

Special Design
Special with a pipe in Hide inside tank, do not hide the beauty, beautiful through the tank and harmonious every the decoration.

Do not be moss
Safe with special material, protect moss happening.

UV STABILIZER
The sunlight does not enable to go through, so it can protect UV light at 8 levels, durability, not be the moss inside tank and most strongly use for external.