TIMBERA
DOS Water Tank model with the charm of fascination. Make it wonderfully of natural garden, emotional with same as natural wood pattern. You can decorate the tank as your imagination with accessories you choosing according in your own style.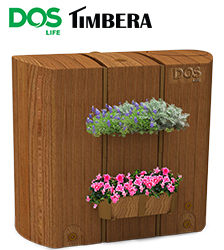 Product Descriptions
1. Model Timbera
2. Size (Liter): 900
3. Color: Light Oak
4. Material: Polymer Elixir
5. 20 year Warranty *according to company's condition*
Brochure Download
Set up Description
Feature

Health Safe
Certificated by America FDA

Anti-Bacteria Protection
Pass checking from the foreign institute about highest efficiency for destroys bacteria and microorganism efficiently.

Protect water flood
Do not collect dust and insect with tank bottom design attach the ground.

Special Design
Special with a pipe in Hide inside tank, do not hide the beauty, beautiful through the tank and harmonious every the decoration.

Do not be moss
Safe with special material, protect moss happening.

UV STABILIZER
The sunlight does not enable to go through, so it can protect UV light at 8 levels, durability, not be the moss inside tank and most strongly use for external.